About Kimihiko Buyo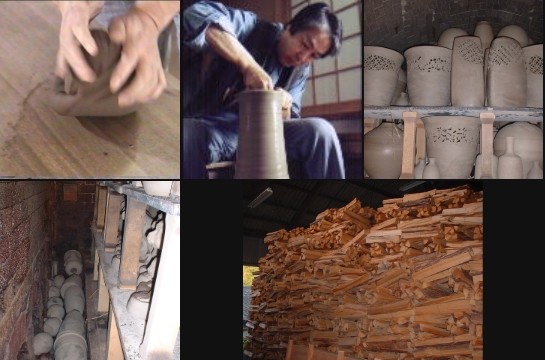 Kimihiko BUYO is a world renowned Bizen Ceramic Artist from Japan. His father was the first mayor of Bizen city. His grandmother was a Japanese-style painter, and his great-grandfather was the founder of Koto-yaki porcelain pottery in Nagahama city, Shiga Prefecture.
Profile
1947 Kimihiko BUYO was born in Bizen city in Okayama Prefecture, Japan.
1966-72 Attended Doshisha University in Kyoto, Japan
1978 Built the kiln (nobori-gama) at Osafune-town in Okayama Prefecture
1978 Held an exhibition of his works at Hotel Okura, Tokyo, Japan.
Membership
Rotary Club Okayama Chuo, Okayama, Japan (1988-present)
President of Bizen Junior Chamber Inc., Japan (1979-1987)
Junior Chamber Inc. Senate (1986-present)
BIZEN-Yaki Toyu-Kai in Japan (1978-present)
Accademia International "Greci-Marino" in Italy (1996-present)
Fondateur de l'Amicale des Arts de Versailles in France
Exhibitions of Kimihiko BUYO
1978-present Tokyo, Yokohama, Hiroshima, Takamatsu, Okayama, Nagahama in Japan
2000 Beijing People's Association for Friendship with Foreign Countries (China)
2001 Beijing Museum of China and the Tienjin Art Museum (China)
2003 National Art Museum of China (China)
Awards and Exhibitions
1988 1er Prix Vase of Flowers Exhibition (Tokyo, Japan)
1989 3e Prix pour la participation a la plus grande Exposition d' Art Contemporain Japonais (Middlesbrough, Great Britain), Exposition d'Art Internationale (Paris, France)
1992 Exposition d' Art Contemporain Japonais (Villefranche, France), Exposition d'Art International (Barcelone, Spain)
1994 3eme Prix Academie International d' Art (Bruxelles, Belgium)
1995 Art 95 International Art Competition (New York, USA)
1998 Exposition d'Art Contemporain France-Japon ARTEC '98 (Yokohama, Japan)
References
WHO'S WHO IN INTERNATIONAL ART (Lausanne, Switzerland)
The International Biographical Center (Cambridge, England)
The American Biographical Institute, (Raleigh, NC U.S.A.)
"Annuair de I' Art international", (Patrick Sermadiras, Paris, 1989)
"Prestige de la Peinture et de la Sculpture d' Aujourd'hui dans le Monde" (Ed. Arts et Images du Monde, Paris 1991)
"Modern Chinese Japanese Artist Book" (Zhongyang Shu-Hua Yuan, Pekin, China 1997)
Acquisition
MIGAKI tsubo pottery is owned by His majesty Prince Takamatsu. (1984)
MIGAKI tsubo pottery is owned by His majesty Prince Mikasa. (1984)
GOMA tsubo pottery is owned by Nagahama Castle Art Museum, Japan. (2000)