About Bizen Yaki
Bizen Yaki is an ancient type of pottery. Originating from Japan nearly 1000 years ago, the uniqueness of this pottery lies not only in its longevity, but the fact that it is the only type of pottery that utilizes absolutely no kind of glazes.
How It's Made
The unbaked pieces are placed in the kiln, and for ten days and nights are subjected to very intensive heat, with temperatures reaching over thirteen hundred degrees Centigrade. Fuel for this heating is limited to Japanese red pine. The clay and firing combine to produce various types of coloring and surface characteristics. These particular characteristics have been categorized into several types: GOMA, SANGIRI and HIDASUKI. Because of the absence of glaze, special attention is applied to the configuration and firing, thus demanding unending effort and ingenuity on the part of the ceramic artists.
GOMA
Ashes of the pine firewood, when drawn through the kiln, adheres to the surface and under intensive firing melts and vitrifies, producing a peculiar natural glaze.
SANGIRI
Charcoal, when stoked directly over the ceramics in the final stages of firing, causes multiple colorization.
HIDASUKI
Before placing the pottery in the kiln, some pieces are covered with rice straws to protect them from direct flames. This results in a spectacular design, characterized by elegant scarlet stripes.
Traditionally, these Bizen Yaki pieces were utilized as ritual or religious utensils. However, because of their practicality and elegance, they are to this day used in everyday life, from ceremonial tea procedures to ornamental pottery.

In this highly developed and hectic modern society of ours, the sheer simplicity of this Bizen Yaki pottery, its unpretentious beauty, and its rustic earthy sensation should appeal to the very heart of our soul.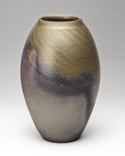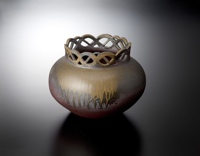 Migaki and Sukashi
Migaki & Sukashi are Kimihiko Buyo's unique techniques.
Kimihiko Buyo opened personal art exhibitions at the Beijing Museum and the Tienjin
Art Museum in China. At these exhibitions, he displayed unique techniques that he had
devised: Migaki and Sukashi. The exhibitions were very successful and he received
the highest praise from the people of China.
His works were designated 'Buyo Bizen' by the Chinese.
Migaki
MIGAKI is a unique technique that can only be applied on BIZEN-yaki, which is generally known, is a type of pottery that is made without any kind of glaze. The pottery in its initial stage is made on the pottery's wheel, then will be left to dry. When half dried it is returned to the wheel. Utilizing a metallic spatula, which is like a painter knife, and while the wheel is spinning, the surface is slowly shaved till a smooth surface is obtained.


As may be imagined, this technique is limited to works on the potter's wheel. It is very time consuming and requires a great deal of delicacy. Also when applied, this technique gives a very 'correct' appearance on the completed work. On some occasions, free-handed liner impressions may be carved on the surface, after this technique is applied.
Sukashi
In this technique, perforations are made on the pottery. These perforations resemble traditional Japanese or Chinese designs.
Peach, pomegranate, peony, bamboo gourd, melon, grape, tortoise shell (hexagonal), cloisonné are some of the patterns that have been tried.


Traditionally, each of these patterns has its peculiar significance. Peach means "bliss", pomegranate means "prosperity", peony means "wealth" and tortoise shell means "longevity". Each is a sign of good fortune.